Across the river from Noosa Heads and Noosaville is the Noosa North Shore – a long stretch of white sand, dunes and beautiful coastline and the gateway to World Heritage-listed Fraser Island and Great Sandy National Park. Noosa2Fraser 4WD Hire provides a great option for exploring the area with a range of
4WD Hire vehicles
to select from. A car ferry operates 7 days a week from Tewantin to take you to Noosa North Shore and beaches. From the beach access point, engage 4WD and enjoy the 60 kilometer plus range of beach driving all the way to Double Island Point.
Vehicle permits are required to drive along the beach and on some inland tracks. We can organise this at cost.
Noosa North Shore Car Ferries operate two car ferries 365 days a year from the river end of Moorindil Street, Tewantin, departing approximately every six minutes. The ferry is open from 5:30am to 10:20pm from Sunday – Thursday and from 5:30am – 12:20am on Fridays and Saturdays. Please see http://www.noosacarferries.com for further information. Cost is $6.00 each way.
We can advise on accommodation options and provide basic camping gear if you would like to stay in one of the many camping spots in the area.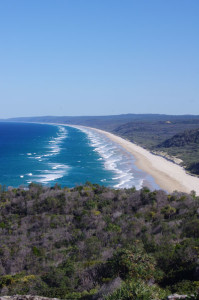 Noosa North Shore / Cooloola sand blow
Popular with day trippers, the southern end of the Cooloola National park takes in Noosa north shore and the Cooloola sand blow. Great fishing, long beautiful beaches and high sand dunes await you. At the right times of year you can see flocks of migratory birds. You can access the southern end of the Cooloola National Park by taking a ferry across the Noosa river at Tewantin.
Noosa North Shore Beach Campground
Noosa North Shore Beach Campground is a popular location for travellers with a love of camping, fishing, surfing, bushwalking and beach walking. The park is located on the spectacular Cooloola Coast, a beach which stretches from Noosa to Double Island Point up to Fraser Island.
The park offers a wilderness feel but is still very close to the vibrant town of Noosa, home to fabulous shops, restaurants and cafes. For more information see:
http://www.sunshinecoastholidayparks.com.au/holiday_parks/noosa_north_shore_beach_campground/
Coloured Sands / Double Island Point
You can tour the world renowned Coloured Sands and picturesque Double Island Point south of Rainbow Beach. Access to the Coloured Sands is along the beach providing there is sufficient sand and the tide conditions are right. Double Island Point is great for surfing, fishing, diving and whale watching. It can be accessed by the Freshwater track, near Rainbow Beach, or via the beach drive up from Noosa North Shore.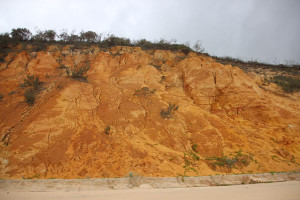 Noosa River / Cooloola National Park
The upper reaches of the unspoiled Noosa River include the Noosa Everglades, Harry's Hut and many secluded camping spots. You will see wildflowers, woodlands, forests and the mirror-like river. Access to the upper reaches of the Noosa River is only available via Harry's Hut. Take the Cooloola Way which stretches from the Rainbow Beach Rd in the north to Kin Kin (near Noosa) in the south, and turn off onto the road to Harry's Hut.